The Quality of Life – Three Questions that Predict Future Quality of Life by Michael "Mike" Forster, Financial Advisor
December 6, 2018 @ 5:30 pm

-

7:30 pm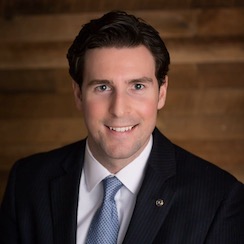 As a member of the Hardwick team in Nashville, Mike focuses on providing comprehensive financial planning to individuals, small businesses and non-profits. Mike earned his Bachelor's Degree in Economics from Sewanee-The University of the South. While at Sewanee he was inducted into the society of the Order of Gownsmen for his academic distinction. He currently serves on the Board of the Nashville Chapter of Kiwanis and the Financial Stewardship Committee at Christ Church. He also serves as a board member for Christian Women's Job Corp of Middle Tennessee.
Mike Forster was selected to become a member of the Institute of Investment Management Consulting (IIMC) at Raymond James. The Institute was developed to help financial advisors drive success in their consulting practices through educational programs, ongoing communications forums and networking with peers who share a passion for continual improvement. The IIMC curriculum provides these advisors with advanced knowledge and concepts commensurate with many high level institutional money management consultants. IIMC members are selected based on their demonstrated commitment to pursuing a consulting approach in managing and growing their practices.
The business of financial advice is set for disruption. Technology offers new ways to engage clients, but it's also presenting the means to replace many traditional advisor roles. Meanwhile, Baby boomers, Gen X, and the Millennials are more educated, more tech-savvy, and more demanding than any previous generation. Perhaps most importantly, extended longevity, combined with the expectation to live longer and better, is driving clients to demand more from financial advice. In particular, consumers now want financial advice to identify what they may confront in middle age and as older adults and offer advice accordingly. This talk will cover the evolving context of old age and offer a client focused framework to understand what may be considered advisor value by clients across the generations. Ultimately, we will explore together the advisor value proposition by examining three questions that predict future quality of life.